Sehgahunda Trail Marathon & Relay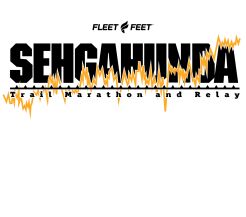 Date: May 21, 2022
Length: 26.3 Miles
Start Time: 7:00am
Location: Letchworth Stare Park - Mt Morris Dam (map)
"Dare to Experience" Sehgahunda!
Pronounced (Say-ga-hunda)
FINAL BUS ROSTER and INSTRUCTIONS
Your Wave & Wave Details/Protocols
5/18 Exit Closure Travel Update:
The 2022 Participant guide addresses the exit closure at Mount Morris & the detour at the Geneseo exit. Below are direction options from the Geneseo exit to bypass the additional portion of 408 that remains closed.
Please take care & examine the route you choose to ensure you are leaving additional time for the detour.
Through Geneseo + Back Roads to Mount Morris + River Road to Parade Grounds: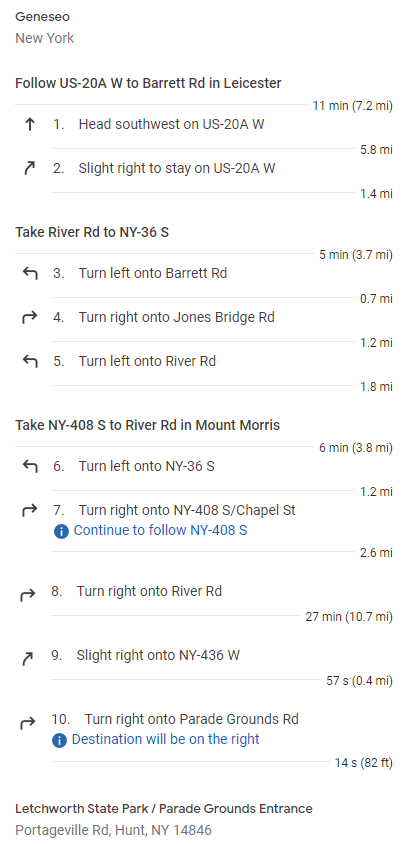 Through Geneseo + Through Leicester to Mount Morris + River Road to Parade Grounds: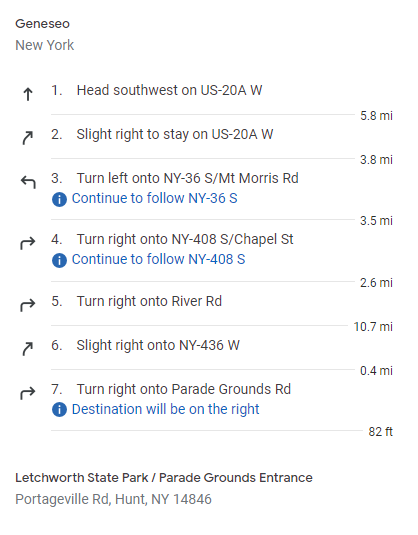 Effective Immediately (3:50PM on Wed., May 11th) there will be no more Team Changes! Unfortunately the changes make extremely challenging back end logistics issues as we are trying to plan and organize for next week. Thank you for understanding!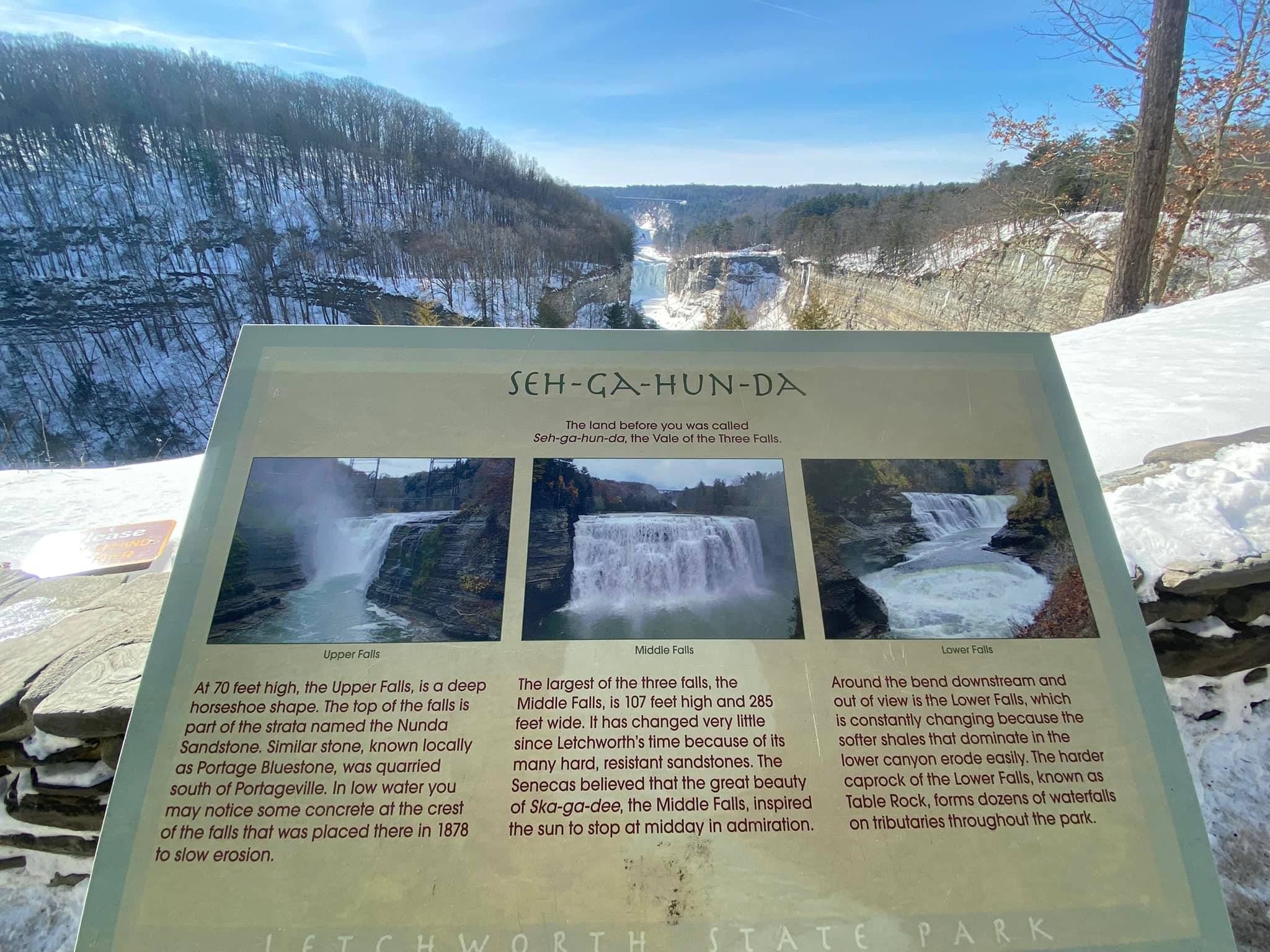 1/14/22 Update: The notice to those who deferred to 2022 and how to claim your deferral was sent via Run Sign Up at 1PM on Friday, Jan 14th. You must exercise your option by Feb 15th at 11:59PM. You can view the note here. If you received the note in error, please let us know. We can not control if you do not receive the notice. Please check your spam.
STRONGLY SEEKING VOLUNTEERS CLICK HERE

WHY "SEHGAHUNDA"? WHY LETCHWORTH STATE PARK?

The Sehgahunda Valley ("Vale of Three Falls"), which encompasses the portion of the Genesee River Valley, was comprised of several villages settled by the Seneca People. The locations of these villages make up the current boundaries of Letchworth State Park.
Letchworth State Park spans over 14,000 acres, with miles and miles of trails - all with varying degrees of technicality to challenge both experienced runners and casual hikers. Many of the trails that make up this race are the very trails used by the Seneca Indians to access the Genesee River, which bisects this valley, giving rise to its nickname "The Grand Canyon of the East."
We dare you to experience the beauty, history, and challenge of this unique event!
* Start Time Based on Projected Finish Time
Includes
• 7-8 aid stations along the 26.3 mile course providing pre-packaged food and water.
• Post Race Grab n Go Bag of food and drinks
• Custom finisher medal to all finishers, with an additional award for the Sehgahunda 72!
• The North Face Box NSE Hoodie to all 26.3 solo registrants, long-sleeved cotton shirts for the relay team registrants (size guaranteed by April 15, 2022)
• Amazing scenery!
What is Sehgahunda 72? This is where a solo participant registers for both Sehgahunda Trail Marathon AND all 3 Vale of Three Falls Races

Sunday event - Vale of Three Falls
By registering for this event you are acknowledging that the date, time, location, and distance of the race may be changed, switched to virtual, or canceled at any time as deemed necessary by the Race Directors due to circumstances beyond their control. In the event that any of these scenarios happens, there will be no refunds, transfers, or deferrals allowed unless otherwise stated.
Registration/Packet Pickup
Packet Pickup - PLEASE GO TO EARLY PACKET PICKUP AND DO NOT WAIT UNTIL RACE DAY
Thursday, May 19th from 10-6PM at Fleet Feet @ The Armory - 155 Culver Rd, Rochester, NY 14620
Friday, May 20th from 10-1PM at Fleet Feet @ The Armory - 155 Culver Rd, Rochester, NY 14620
Others can pick up your packet for you
Saturday, May 21st from 7-7:30PM at Mt. Morris Dam Start Area - It is NOT ADVISED to wait until race day
Registration
| | | | |
| --- | --- | --- | --- |
| Fees/Dates | 1/15 to 2/15 | 2/16 to 3/15 | 3/16 to 3/31 |
| Trail Marathon Solo | $110 | $115 | $120 |
| Sehgahunda 72 | $200 | $215 | $230 |
| 2 Person Relay | $120 | $126 | $132 |
| 4 Person Relay | $200 | $212 | $224 |
Please note: We have closed registration for Day 1 to be March 31st at 11:59PM due to planning purposes and supply chain challenges.
Awards
No Awards Ceremony
Solo Awards
Custom finisher's medal to all who complete the course!
Overall Male and Female
Awards to Top 3 Male and Female in 10 year age groups (19 & under, 20-29, 30-39, 40-49, 50-59, 60-69, 70 & up)
Relay Awards
Award Distribution TBD - this based on if we can get volunteers to help at the finish line
Race Day Schedule
*Some start times subject to change
7AM - 7:30AM - Day of Packet Pickup - This is NOT ADVISED
* Start Time Based on Projected Finish Time
Your Wave & Wave Details/Protocols
DISTANCE
CUMULATIVE
CUT OFF/TIME OF DAY
Start to Checkpoint (CP) 1
6.1 Miles
6.1 Miles
9:40am
CP 1 to CP 2
2.5 Miles
8.6 Miles
10:20am
CP 2 to CP 3
6.8 Miles
15.4 Miles
12:30pm
CP 3 to CP 4
2.3 Miles
17.7 Miles
1:13pm
CP 4 to CP 5
1.7 Miles
19.4 Miles
1:46pm
CP 5 to CP 6
2.5 Miles
21.9 Miles
2:34pm
CP 6 to CP 7
1.3 Miles
23.2 Miles
3:00pm
CP 7 to CP 8
1.0 Miles
24.2 Miles
3:20pm
CP 8 to Finish
2.1 Miles
26.3 Miles
4:00pm
You need to maintain less than 17:30 min/mile.
Course/Maps
Sehgahunda is a highly technical trail (ultra)marathon clocking in at just over the traditional marathon distance - 26.3 miles
Course Map (North Section) Course Map (South Section)
Relay Distances are as follows:
Leg #1 - 6.1 miles
Leg #2 - 9.3 miles
Leg #3 - 6.5 miles
Leg #4 - 4.4 miles
The course starts at the Mount Morris Dam Visitor Center, and runs along the Finger Lakes Trail, taking in some of the best views Western NY has to offer, eventually winding it's way down to the finish area at the Parade Grounds in Portageville. It has:
Over 100 gullies to descend and climb
Lots of rocks, roots, ruts, leaves, and gullies to manuever over, under, and around
Short climbs, long climbs, very few flats
Between 3,000 and 4,000 feet of climbing
There are 7-8 check points/aid stations along the route
Prepackaged foods/water only will be available at all check points/aid stations.
The main trail that you will be running (The FLT) is marked with yellow blazes
Most trails heading out to the check points are marked with blue blazes
All turns from the main trail onto the check point trails and from the check point trails back onto the main trail will be marked with arrows and small flags
A MapMyRun course map can be found here.
Note: this is not an official map, just one taken from a GPS watch which can be inaccurate over the long distances, sharp turns, and steep inclines.
Directions/Parking
SPECIAL NOTICE DUE TO ROAD CONSTRUCTION
The route 390 exit for Mt. Morris (route 408) is closed for southbound/westbound in to Mt. Morris. From the north, exit at Geneseo and follow detour signs. This detour will add time so plan accordingly
From the South exit at Sonyea
The Parade Grounds entrance to the park is off of Portageville Road in Hunt, NY. GOOGLE MAP for directions.
Race Parking
Parking is at the Parade Grounds. You can be dropped off at the Start too at Mt Morris Dam, but NO PARKING at the DAM. RELAY PARTICIPANTS, please stay tuned on this.

Shuttle buses will be available for $10 before the start of the race from the Parade Grounds (finish) to the Mt. Morris dam (start) for Day 1 participants only by May 15th. Your Bus will be assigned once your start wave is determined. You can purchase a bus pass during the registration process. Bus tikcet purchase ends May 15th
Top