Schutt's Cider Mile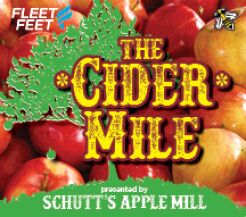 Date: November 12, 2022
Length: 4 Cider Tastings Over 1 Mile
Start Time: 10:00am
Location: Schutt's Apple Mill (map)
Schutt's Cider Mile
Saturday, November 12th | 10:00am
Schutt's Apple Mill | 1063 Plank Road
Drink Cider | Run 1/4 Mile | Drink Cider | Run 1/4 Mile | Drink Cider | Run 1/4 Mile | Drink Cider | Run 1/4 Mile
Offering Hard OR Apple Cider - you choose in registration. Must be 21 or over for Hard Cider.
Come run or walk an off-road mile through scenic Schutt's Apple Mill orchards and enjoy four tasty 4 oz samples of cider along the way. Drink a sample, run a quarter mile, drink a sample, run a quarter mile, then repeat two more times. Both hard cider and regular apple cider will be offered. Under 21 will receive apple cider. Hard Cider (for those 21 and over, ID Req'd) or Regular Apple Cider. ID Required for those partaking in the Hard Cider.
Enjoy this perfect fall event at Schutt's Apple Mill, enjoy homemade Cider from Schutt's, a long-time family-owned entity of Webster, NY. Then enjoy the farm and its offerings post-race.
A relaxed but FAST and DELICIOUS one-mile event
A fun fall day celebration enjoying cider and running/walking at one of the oldest locally owned businesses in western New York. After the race, stay and visit the tasting room for additional tasting options. Check out the country store that has been a Schutt's family tradition since 1918. That's four generations of local ownership. Check out the new cider press room too added in 2019!! See everything they offer by clicking here. Schutt's Apple Mill
You will be able to select your wave in 15 minute increments. It is 60 people per wave. We reserve the right to combine waves.

By registering for this event you are acknowledging that the date, time, location, and distance of the race may be changed, switched to virtual, or canceled at any time as deemed necessary by the Race Directors due to circumstances beyond their control. In the event that any of these scenarios happens or any other scenario, there will be no refunds, transfers, or deferrals allowed unless otherwise stated.
Cider Mile Shirts are available for purchase for $10.00 during registration until November 1, 2022.
Registration/Packet Pickup
Fees:
Until October 31st - $20
November 1st - November 11th (4PM) - $25
Packet Pick-up:
Thursday, November 10, 2022 from 10:00am-6:00pm at Fleet Feet @ the Armory (155 Culver Road, Suite 110, Rochester, NY) - please go to packet pickup to alleviate race day lines. Others can get your packet for you. You will still be required to bring ID if over 21 for the hard cider category.
Race Day, November 12th from 9am-10am - it will close promptly at 10AM!!! - it is not advised to wait until race day.
Awards
There are no awards except enjoying and experiencing the wonder of drinking cider through an apple orchard then going to Schutt's afterwards and shopping for autumnal treats or hanging out in their brewery savoring more cider delicacies!
Race Day Schedule
For participants 21 & older, your ID is required for those partaking in the Hard Cider tastings. Please be sure to have your ID with you!
You pick your wave during registration. You can not switch waves. If you start late, the clock has already begun.
9:00am-10:00am - Packet Pickup Opens and will close at 10AM
10:00am - Race Start, other waves at 10:15, 10:30, 10:45, 11AM
You will be able to select your wave that are 15 minutes apart. We reserve the right to combine waves. Waves are capped at 60 people.
Course/Maps
It is very obvious on race day .... follow the arrows. The course will be along the private property of Schutt's Apple Orchards
Directions/Parking
Schutt's Apple Mill
1063 Plank Road
Webster, NY US 14580
Parking: It is suggested to carpool. Please look for signs, various lots, etc.
Top