RUN585 - Summer in The City 8K
RUN585 Series is Back!
You can register for the series of singular events. Enjoy the perfect Genesee River Path during the summer months, crossing scenic pedestrian bridges and running along the historic Genesee River. The finish is at the Genesee Waterways Center, the home for Rochester kayaking, supping or canoeing.

Please Note: Those that deferred their 2020 entry or ran the 2020 virtual event please keep an eye out for how to process the offerings from 2020.
04/28/21: Here is the deferral note that was sent - CLICK HERE
Race 1 - June 16th - The Big Run 5K
Race 2 - July 21st - Summer in the City 8K
Race 3 - August 25th - Hot Summer Night 5K
Start Time: You can begin anytime between 4:30PM and 6PM

What Series Participants Get
Finisher medals for each race
Series Awards
Huge Cooler Jug to store cold and hot drinks
Online Results
Race Specific Commemorative Sticker
LIVE event with proper COVID-19 Safety Protocols
Post-race grab and go food bag
Custom Finisher Certificate e-mailed
Electronic timing
Live text and email results as you finish (must opt-in when registering)
What Individual Participants Get
Finisher medal
Race Logoed Koozie
Online Results
Race Specific Commemorative Sticker
LIVE event with proper COVID-19 Safety Protocols
Post-race grab and go food bag
Custom Finisher Certificate e-mailed
Electronic timing
Live text and email results as you finish (must opt-in when registering)
Virtual Event Includes
Complete your event and submit your results between:

The Big Run 5K - 8am, June 15th, and 9pm, June 18th
Summer in the City 8K - 8am, July 20th, and 9pm, July 23rd
Hot Summer Nights 5K - 8am, August 24th, and 9pm, August 27th
Race Medal (Series gets all 3 medals)
Insulated Cooler for Series
Koozie for Single races
Digital Bib
Custom Finisher Certificate e-mailed
Packet shipped to your address in the US.*For Race 1 or Series, You may go to packet pickup on June 14th and 15th, otherwise, your packet will be mailed the week of June 21st to the shipping address provided during registration
Online Results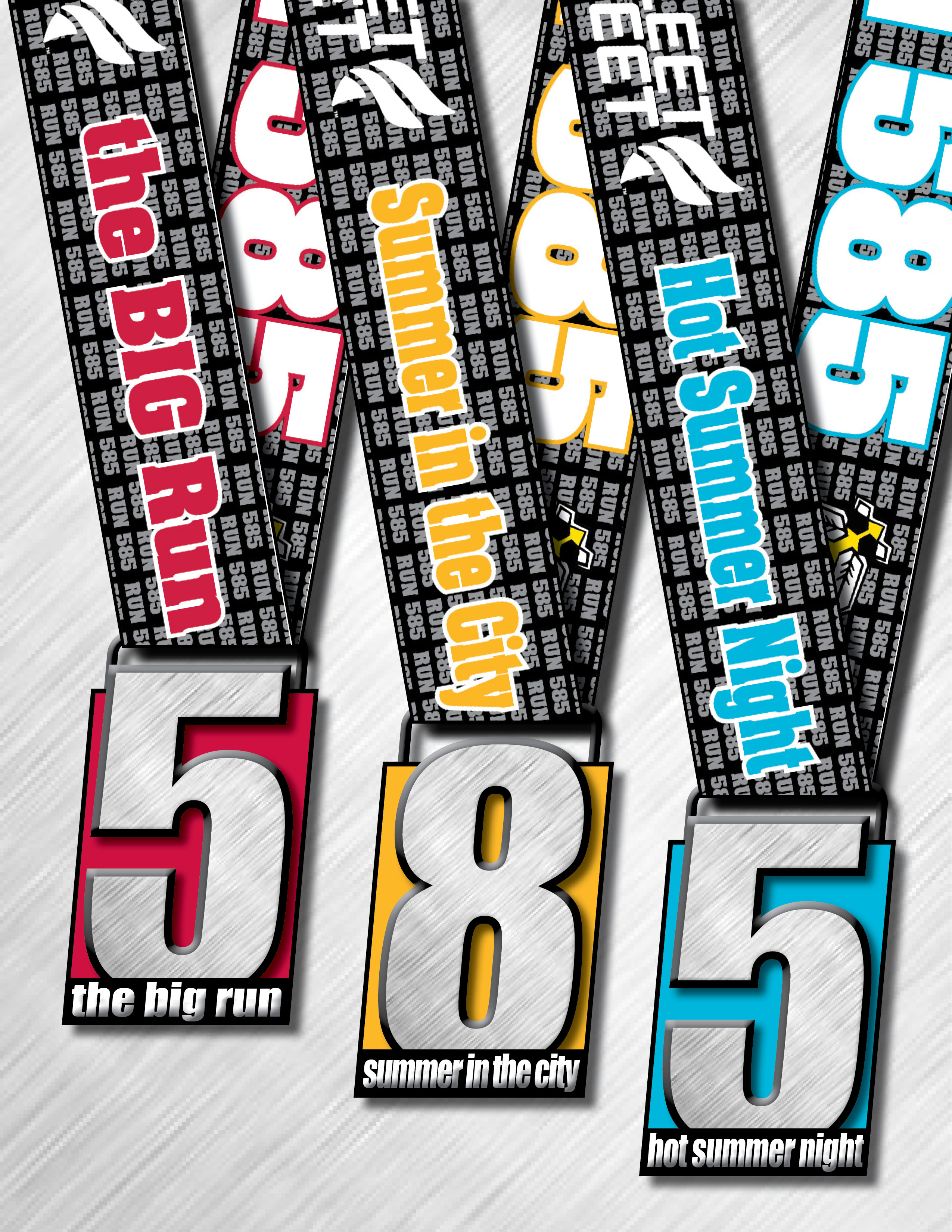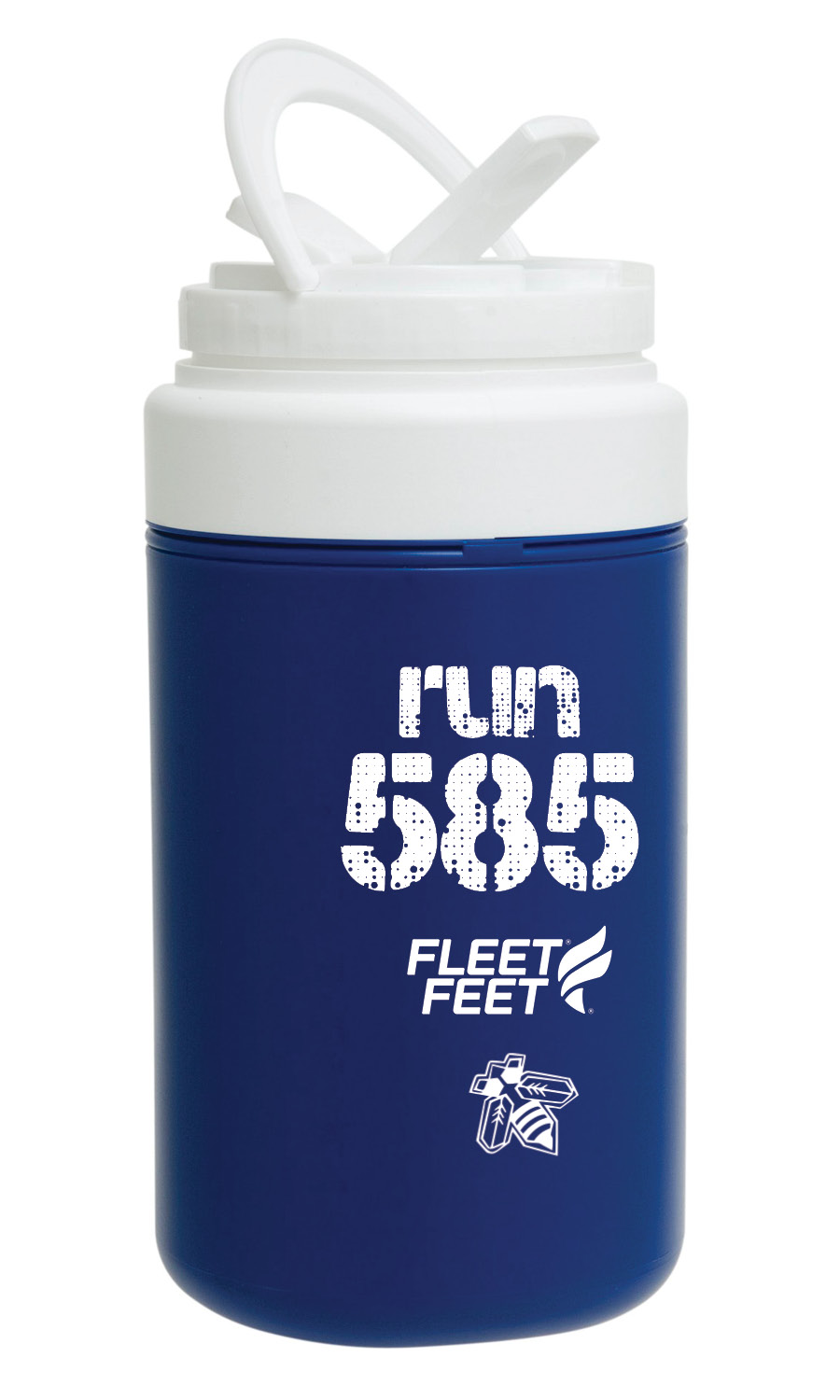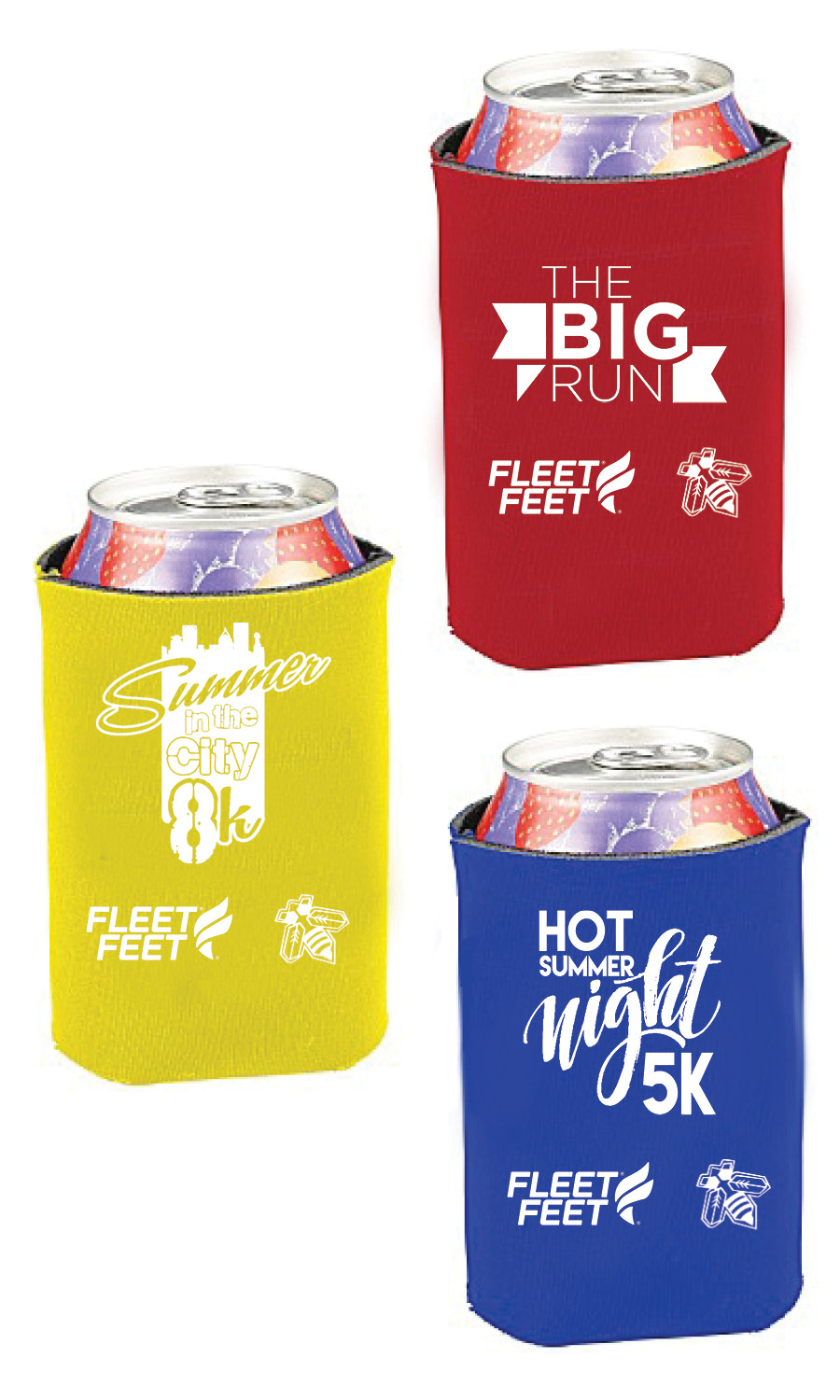 The Medals for each Event The Series Cooler The Single Race Koozies
Is it a Koozie, or is it a Cozy? Or is it just a can holder? Whatever you want to call it, it's an ideal snug little insulator for whatever you want to keep hot or cold! Perfect for all your post run or race cans or bottles! Get one per race, featuring that race's logo!
This insulated cooler jug is perfect for anyone who is outdoors working out on roads or trails! You'll love being able to sip a nice cool recovery drink out of this 64 oz. sports bottle whenever it's necessary! For series participants, featuring the run 585 series logo!
For $10 plus tax you can get the RUN585 Cotton Tee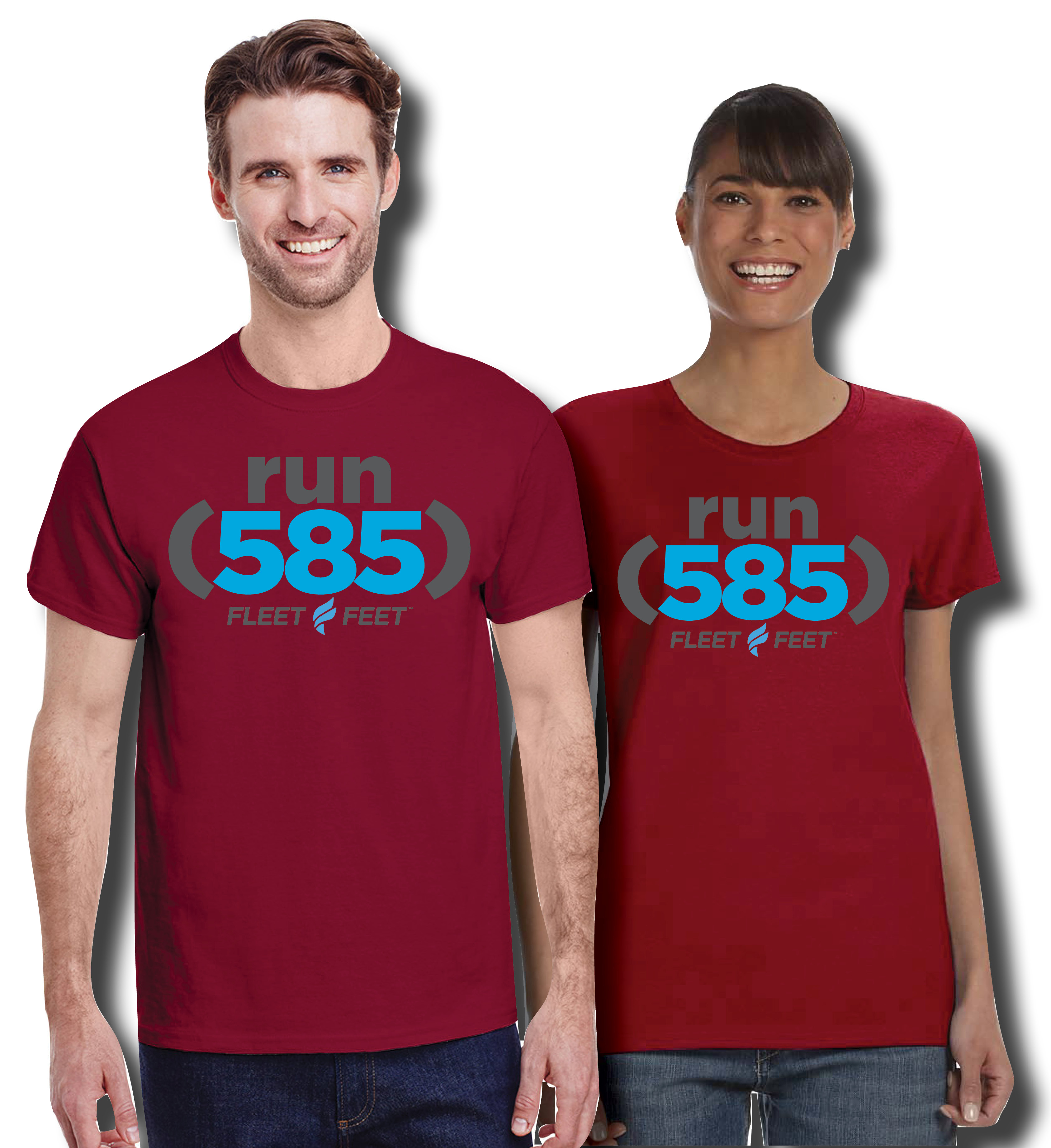 ---
COVID-19 GUIDELINES
As it stands now, we will be adhering to the CDC guidelines regarding masking, social distance, post race food and mass gathering numbers. Should situations change we will indeed adjust protocols accordingly. Please stay tuned to social media, this website and emails.
All athletes are required to carry hydration with them while on course, there are no water stops
Post-Race food will be prepackaged and in a bag. These will be handed out to you at the finish line upon completion of your event.
Remain physically distant by a minimum of 6 feet at all times.
Packet pickup items will be pre-bagged and labeled with your name on them. There is no exchange of shirts or bib numbers available.
Throw out any of your own trash, do not toss it on the ground for staff/volunteers/other athletes to clean up.
There will not be an awards ceremony. We will mail certificate awards within a few days after the event is complete so we can compile results
Results will be available online after the event
Please check your email for specific race day and packet pickup info
Your start will be at your convenience (during the times listed below under Race Day Schedule) and any can happen when you are ready.
Athletes will start one at a time with a few seconds between each start
The course is on open pathway, so please stay alert and follow the rules of the road! You are responsible to know the course as there won't be road marshals.
By registering for this event you are acknowledging that the date, time, location, and distance of the race may be changed, switched to virtual, or canceled at any time as deemed necessary by the Race Directors due to circumstances beyond their control. In the event that any of these scenarios happens or any other scenario, there will be no refunds, transfers, or deferrals allowed unless otherwise stated.
Registration/Packet Pickup
| | |
| --- | --- |
| Event | Entry Fee |
| Series | $90 |
| Big Run 5K | $32 |
| Summer in the City 8K | $32 |
| Hot Summer Night 5K | $32 |
| Virtual Series | $60 |
| Virtual Single Race | $22 |
Packet Pickup will be
Tuesday, July 20 at Fleet Feet @ The Armory (155 Culver Rd., Rochester, NY 14620) from 10AM-7PM
Wednesday at Race site from 4:30PM – 5:30PM, but this is not advised due to staffing constraints.
Awards
Series Awards to the Overall and 5 year Age Group winners
These awards will be mailed to winners the week following the final event
All finishers can download the electronic finisher certificate
Race Day Schedule
4:30pm - 5:30pm - Packet Pickup - this is not advised due to staffing constraints and to help reduce congregation.
4:30pm - 6:00pm - You can begin your race anytime between this time period. You must begin by 6PM.
Directions/Parking
Parking is available at the Roundhouse Shelter at Genesee Valley Park, off Moore Road. You can view a park map here. There is also parking available at the baseball field lot on Genesee St, click here to see this location
The Genesee Waterways Center is located in Genesee Valley Park near the City ice rink/outdoor pool.
The address is:
149 Elmwood Avenue
Rochester, New York 14611
For more information on parking, check out the map here!
From the South
Get off at the Scottsville Road (NYS Rt. 383) exit which is on the southwest side of Monroe County. Travel north on Scottsville Road for about 2/3 mile and then bear right onto Elmwood Ave. Proceed ¼ mile on Elmwood Ave and turn right into Genesee Valley Park by the City ice arena/pool. Go another 400 feet until you see the GWC facilities (tan and green buildlings) and park in the designated areas.
From the East
Take 490 Westbound to 590 South. Get off the Elmwood Avenue Exit. Turn Right onto Elmwood. Stay on Elmwood about 3 miles. Its past Strong Hospital and U or R Campus
From the West
Take 490 Eastbound. Get off the Goodman Street Exit. Turn Right onto Goodman. Take Goodman to Elmwood Avenue. Turn Right onto Elmwood. Its past Strong Hospital and U or R Campus
Top