Pop-Up Snow Cheap Trail Race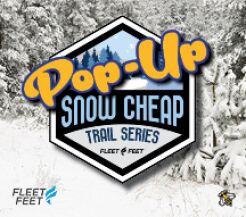 Date: February 10, 2021
Length: 3 ish miles
Start Time: 5:30pm
Location: Beach Lot, Mendon Ponds Park, Mendon, NY (map)
While Covid continues to be a challenge, we're still looking forward to Snow Cheap racing this year . . . with a new wrinkle!
The races will now be In-Person "Pop-Up" style!
Instead of a planned series, we will watch the weather closely, looking for the best snow and trail conditions, and then announce a race date, time, and location.
Races can "pop-up" at any time in February and March and we will try to give you approximately a week's notice.

Race 1 is Wednesday, February 10th at Beach Lot, Mendon Ponds Park

Registration will be capped and registration will only be open for a few days, so don't wait, register now!

Get ready and be ready to hit the Snow Cheap trails in the best conditions possible!

Weeknight races will have a rolling start from 5:30-6:30pm (arrive and start any time during this window) when the trails will be dark, so headlamps are required!

Trail shoes, studs and/or traction devices are highly recommended for all races.

Due to Covid safety restrictions, we won't be able to gather in lodges before or after races, but they will still be the parking locations for the start and finish.
Snow Cheap Races can "pop-up" at the various Monroe County Park locations based on availability.
Due to the current COVID-19 global pandemic, we are taking extra precautions to ensure the safety of our staff, participants, and the general community. As part of the registration process, everyone must sign and adhere to this COVID-19 section of the waiver - You will sign this as your register.

• Masks must be worn leading up to the start of your event and immediately following the finish of your event.
• All athletes are required to carry hydration with them while on course, there are no water stops
• Post-Race food will be prepackaged and in a bag. These will be handed out to you at the finish line upon completion of your event.
• Remain physically distant by a minimum of 6 feet at all times, and no congregating before or after your event.
• Packet pickup items will be pre-bagged and labeled with your name on them. There is no exchange of shirts or bib numbers available.
• Throw out any of your own trash, do not toss it on the ground for staff/volunteers/other athletes to clean up.
• There will not be an awards ceremony.
• Results will be available online after the event
• Please check your email for specific race day and packet pickup COVID-19 Protocol
• No Spectators will be allowed
• Upon completion of the event, you must IMMEDIATELY exit the area. You can not wait for other athletes as we must maintain capacity and social distance.
• NYS residents only
• All athletes will have their temperature taken at the start line weather permitting or be prepared for the COVID-19 Questions. Anyone with a temp higher than 100 degrees will not be allowed to compete and will be asked to leave.
• Your start will be at your convenience (during the times listed below under Race Day Schedule) and any can happen when you are ready.
• Athletes will start one at a time with a few seconds between each start
• The course is on trails, so please follow the pink flags, and don't follow the person in front of you, if you get lost it is your fault.
HEADLAMPS REQUIRED!!
Registration/Packet Pickup
Registartion Fee = $19 (No refunds, transfers nor deferrals)
Packet Pickup will be at the Beach Lot, Mendon Ponds Park, Mendon, NY from 5PM to 6:15PM on Race Night
Awards
There will not be any awards, but we will do random raffles. Raffle winners will be able to pick up their prize at Fleet Feet @ The Armory.
Race Day Schedule
5:00PM - 6:15PM - Packet Pickup Window
5:30PM - 6:30PM - You are welcome to start anytime between this one hour window. Absolutely no starts after 6:30PM.

The trails will be DARK! Headlamps are REQUIRED!
Course/Maps
The course is all trails approx. 3ish miles - give or take. There is not a map as the course is decided that evening based on conditions. Please follow the pink flags, not the person in front of you and if you get lost it is indeed your fault, so please pay attention. Headlamps Required!!
Directions/Parking
Parking is available in the Beach Lot, Mendon Ponds Park, Mendon, NY
Top