Made in the ROC 5K/10K - SOLD OUT
Introducing Made in the ROC 5K/10K!  This is going to be a very cool event on very unique courses. Boots and Ellen (Owners of YellowJacket Racing) got to go on a tour of the property, so unique and to them beautiful in its own way. Some spots have so much piping going between buildings it almost feels like you are in a tunnel.  The property was (and still is) the home of Eastman Kodak, among several other corporations.  Once upon a time, this property housed much of Kodak's manufacturing, research and industry.  This property was like a forbidden land for runners.  Unless you worked on the property you don't normally get to see the expansive industry that occurs there for Rochester.  And now it's gates are opening to runners and walkers at Made in the ROC 5K/10K.  Today, known as Eastman Business Park, is the home to various industries including energy, food & beverage, chemical engineering, pharmaceutical manufacturing, plastics, roll to roll manufacturing and photonics.  It employs thousands and creates products and services right here in Rochester, NY.
Both courses will run UNDER Ridge Road. They'll go past George Eastman's Memorial where his ashes are buried, past Kodak's oldest building, along with several other corporations.  This course exhibits beauty via its industrial and creatively engineered buildings and infrastructure.  You can feel the productivity,  imaginativeness and inventiveness throughout the campus.
The idea is to celebrate all that has been created in the ROC in the past, present and future. #madeintheroc
Amenities Include:
Finisher medals - to commemorate the Original Kodak Brownie camera - see below....
Chip timing by YellowJacket Racing
Premium blend cotton short sleeved t-shirts to all registrants by August 5th plus the next 100 registered.
Plenty of post-race food for all participants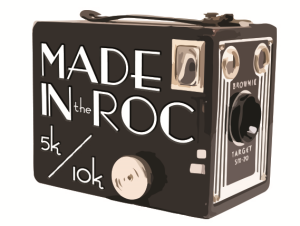 This is a depiction of the Made In The ROC medal which commemorates The Kodak Brownie, a long-running popular series of simple and inexpensive cameras made by Eastman Kodak. Introduced in 1900,[1] it introduced the snapshot to the masses. It was a basic cardboard box camera with a simple meniscus lens that took 2 1/4-inch square pictures on 117 roll film. It was conceived and marketed for sales of Kodak roll films. Because of its simple controls and initial price of $1 (equivalent to $30 in 2018) along with the low price of Kodak roll film and processing, The Brownie camera surpassed its marketing goal (Cited From Wikipedia).
The ribbon will resemble a roll of film.
The ability to traverse a campus that even former employees weren't allowed to run on.  Truly unique.
Registration/Packet Pickup
| | | | |
| --- | --- | --- | --- |
|   |  0 - 100 Registered  |  101 - 200 Registered  |  201+ Registered |
|  5K  |  $25 |  $30 | $35 |
|  10K  |  $30 |  $35 |  $40 |
There are NO PROCESSING FEES when registering online for all YellowJacket Racing events!
All entries are non-transferable and non-deferrable, no exceptions.
The 5K is capped at 400 participants, The 10K is capped at 300 participants

Packet Pickup
Awards
Overall M/F and 1st place M/F in 5 year age groups, for both distances.
Race Day Schedule
7:00 am - Registration Opens
8:00 am - 5K & 10K Start
9:15 am - 5K awards
9:30 am - 10K awards
Course/Maps
Course maps coming soon!

Both distances will be completely within Eastman Business Park. The courses are pretty funky travelling under Ridge Road with lots of twists and turns as we wind between buildings, under huge pipes, etc. They'll go past George Eastman's Memorial where his ashes are buried and past Kodak's oldest building.
Top