Brighton July 4th 5K
The Town of Brighton 4th of July Celebration kicks off with the Brighton 5K at Meridian Centre Park. (Note: New Location: 2025 Winton Road South
Rochester, NY US 14618 )
This is a flat and fast 5K! As part of the Town of Brighton July 4th celebration, we will kickoff the day with the Brighton 4th of July 5K!
The event is capped, and registration closes June 22nd at 11:59PM (whichever comes first). Be sure to register quickly.
Includes
Generic Race Bib
Printable Finisher Certificate
COVID-19 Safe In Person Event
Online Results
Post Race Grab n Go Food Bag
Electronic Timing
Premium blend cotton t-shirts to all participants registered by June 22, 2021.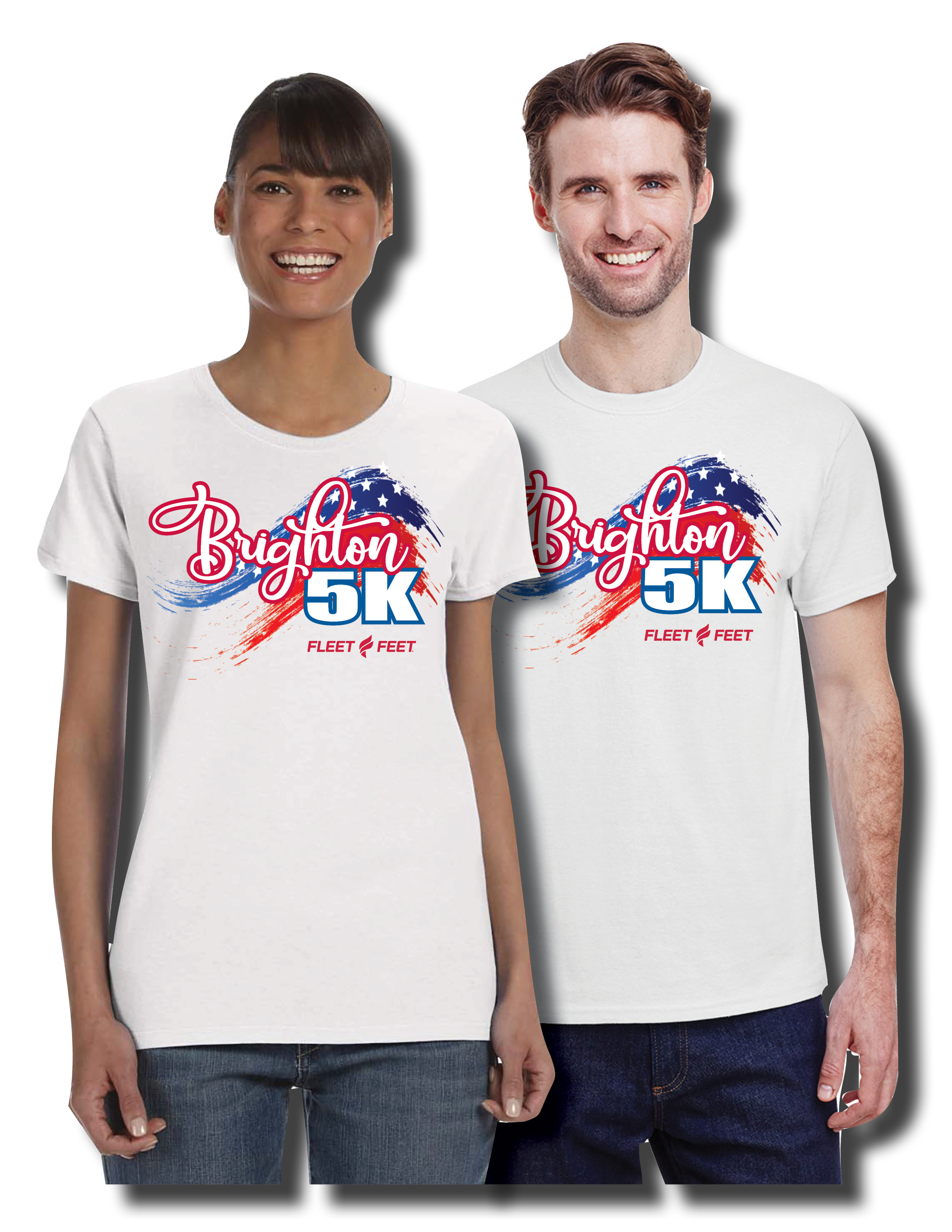 As it stands now, we will be adhering to the CDC guidelines regarding masking, social distance, post race food and mass gathering numbers. Should situations change we will indeed adjust protocols accordingly. Please stay tuned to social media, this website and emails.
All athletes are required to carry hydration with them while on course, there are no water stops
Post-Race food will be prepackaged and in a bag. These will be handed out to you at the finish line upon completion of your event.
Remain physically distant by a minimum of 6 feet at all times, and no congregating before or after your event.
Packet pickup items will be pre-bagged and labeled with your name on them. There is no exchange of shirts or bib numbers available.
Throw out any of your own trash, do not toss it on the ground for staff/volunteers/other athletes to clean up.
There will not be an awards ceremony. We will mail certificate awards within a few days after the event is complete so we can compile results
Results will be available online after the event
Please check your email for specific race day and packet pickup info
By registering for this event you are acknowledging that the date, time, location, and distance of the race may be changed, switched to virtual, or canceled at any time as deemed necessary by the Race Directors due to circumstances beyond their control. In the event that any of these scenarios happens or any other scenario, there will be no refunds, transfers, or deferrals allowed unless otherwise stated.
Please note: We are asking for your finish time in the registration. Due to COVID-19 we may be placing you in waves based on finish time. If you want to run with someone else, please put the same finish time.
Registration/Packet Pickup
This event is capped, so don't wait, register now!

Entry Fee: $30

Registration will close at 11:59pm on June 22nd!

Packet pickup is available at Fleet Feet @ The Armory (155 Culver Rd, Rochester) on July 2nd (10AM-7PM) & 3rd (9AM-5PM)
Race day pickup will be available at the race site starting at 7:30AM and closes at 7:55AM. Race Day Packet Pickup is NOT advised. PLEASE try to pick up at Fleet Feet to avoid creating crowds at registration on race day.
Awards
There is no awards ceremony. We will Mail award certificates post event to the address listed in registration.
Top Overall Male and Female
Age Group Awards to Top 3 Male/Female in 10 year age groups (19 & under, 20-29, 30--39, 40-49, 50-59, 60-69, 70 & up)
Race Day Schedule
Note: New Location - Meridian Centre Park - 2025 Winton Road South, Rochester, NY US 14618
7:30am - Race day pickup Opens
8:00am - Race Starts - Note: Due to COVID-19 Protocols there may potentially be waves. You will be asked your projected finish time during registration which determines your wave. If you want to run with someone else, please put the same finish time. We will inform you of your wave before Packet Pickup begins.
Directions/Parking
Parking is available at Meridan Centre Park.
Top